Waterhouse's Models
Waterhouse would re-use his favourite models, much as Gustav Klimt would later do (Adele Bloch-Bauer). This British artist would draw on family and friends to pose for him, some going on to achieve their own notoriety in film and theatre. As his career developed and built momentum, he was able to use stunning professional models in his work, and this would help to continue his progress and popularity.
Having earlier set about a classical style broadly along the same lines as Sir Lawrence Alma-Tadema and Frederic Leighton, Waterhouse would later drift towards a style more similar to the Pre-Raphaelites. Their peak had passed by this point, but many will still categorise his career within this movement.
Family Influence
John William was always destined to become an artist. Both his parents were in this profession and their period living in continental Europe would have added further inspiration to this direction. The Waterhouse family were to relocate back to England and enter JW into traditional British schooling of that period. The budding artist would return to Italy as his career took off.
By the 1870s he had completed his early schooling at the Royal Academy and was starting to settle upon a signature style. Waterhouse would initially practice his drawing skills by sketching various items found in the V&A Museum, British Museum and the National Gallery. He also studied sculpture too, before choosing oil painting as his preferred tool of creativity.
Academic Employment
That said, he was elected to the Royal Institute of Painters in Watercolour and served in this prestigious role from 1883 - 1889. Perhaps mirroring JMW Turner, who also excelled in oils and watercolours. Having arrived after the peak of the Pre-Raphaelite movement, Waterhouse's career would not reach quite the heights of the likes of Dante Gabriel Rossetti, John Everett Millais and William Holman Hunt. His own late arrival would lead to the label of "the modern Pre-Raphaelite".
The Royal Academy, where he first learnt his trade, organised a retrospective of his career as recently as 2009. A key reason for this was the increased popularity of his work over recents decades. It is highlights such as The Lady of Shalott, Hylas and the Nymphs and Echo and Narcissus which have helped to draw attention back to the British Victorian artists of the 19th century, as well as specifically his own career.
Waterhouse followed the same path beaten by many of the Pre-Raphaelites by studying at the Royal Academy but in joining in 1870 he was around a generation later than those that formed that art movement. His position in the cycle of British art, during the late 19th century, gave him a unique opportunity of drawing the best parts of several different movements together and from that forging his own unique style.
Inspiration
He was also interested in the likes of Alma-Tadema and Leighton whose own careers were more closer to classical art with elements of Orientalism. You will see elements of all of these artists within Waterhouse's various paintings. He used the strong lighting abd harsh shadows used by the Pre-Raphaelites but it is considered by most that his brushwork was slightly different, less focused on precise detail and slightly looser and more expressive in his approach.
Undoubtably, the content used by Waterhouse is very similar to that of Rossetti, Holman Hunt and Millais, but he also chose to merge in elements of classicism alongside it. He would allow his female muses to dominate most of his paintings, allowing their beauty to flourish across the centre of each composition. The Ophelia paintings of Millais and Waterhouse are perhaps the best example to illustrate how they portrayed their models slightly differently. Waterhouse chose to provide a brighter, happier atmosphere around the same subject.
On the Fringes of the Pre-Raphaelites
Many have placed this artist amongst the Pre-Raphaelites, despite these differences and amongst the overall variety right across the history of art, there is clearly much influence on him from those of the Brotherhood. Indeed, some have actually termed him as the 'modern Pre-Raphaelite', taking that art movement and also appending ideas of the time from French art too.
Time in Italy
Waterhouse was actually born in the Italian city of Rome and perhaps this allowed him a warmer personality when depicting scenes of mythology. His models feel real and themes of centuries past felt somehow present. It is suggested that Waterhouse's women held more character and individuality than their Pre-Raphaelite rivals.
One could perhaps connect more closely with the women captured in this artist's work and they balanced sexuality with innocence more realistically. It is the combination of all of this that has actually helped this painter to generate a following as strong as anyone in the Pre-Raphaelite movement, even though his career was spent somewhat out on a limb.
His birthplace of Italy has also been suggested to be the reason for some similarities with the work of Sandro Botticelli, with some comparing their use of softness within their portraits. Waterhouse was perhaps an example of a successful fusion between North and South European art influences.
Many British artists have travelled to Italy to develop their skills and education as young art students, but John William was actually born there and therefore would have had this great artistic nation running through his blood.
Popularity in the Present Day
Waterhouse Prints are some of the best examples of British pre-raphaelite paintings and an ideal choice for your home or office. John William Waterhouse was one of many successful British artists from this art movement which is well known for depicting well known characters into their paintings. As well as offering Waterhouse prints from the links below there are also lists of other Waterhouse paintings and British painters that you may also like are would be wise to check out as well.
Lady of Shalott is the most popular print by Waterhouse and depicts a lady travelling by boat across a small river in England. The print features great detail and a charming atmosphere which attracts many to this print, which you can buy from the links below. For many it is the painting that first introduces them to the career of John William Waterhouse, which can then lead to discovery of many others of his works.
The Waterhouse prints gallery that you can visit by using any of the links in this website offer different options to match your budgets with simple posters at cheap prices plus more expensive framed art prints, giclee prints, tapestries and stretched canvases also ready to buy online from this excellent art retailer.
The style of Waterhouse makes his paintings both traditional and contemporary at the same time, meaning many different types of people enjoy his work. It also means that his paintings are bought in all of these different art forms, depending on the buyer's needs.
The great detail and use of colour in the Waterhouse prints makes it unsurprising that there are also many exceptional sketches from his career, mostly as study pieces for his main works that would take painstaking preparation to both set the suitable scene that he desired plus also to capture it as intended on canvas.
Hylas and the Nymphs below is an art print by Waterhouse that is another example of how the artist used characters within his paintings to impress an incredible charm and atmostphere in each work. Hylas and the Nymphs features an arousing scene that many appreciate as depicting an emotionally charged situation and hosting a type of dreamy, fairytale feeling.
Career Highlights
The three artworks below represent the consistent style and content used by John William Waterhouse across his career. Although he became more ambitious in later life, delivering larger canvases with greater detail, he never got away from his fundamentals as an artist, relying on stunning models of a certain look, combined with strong technique and charming themes.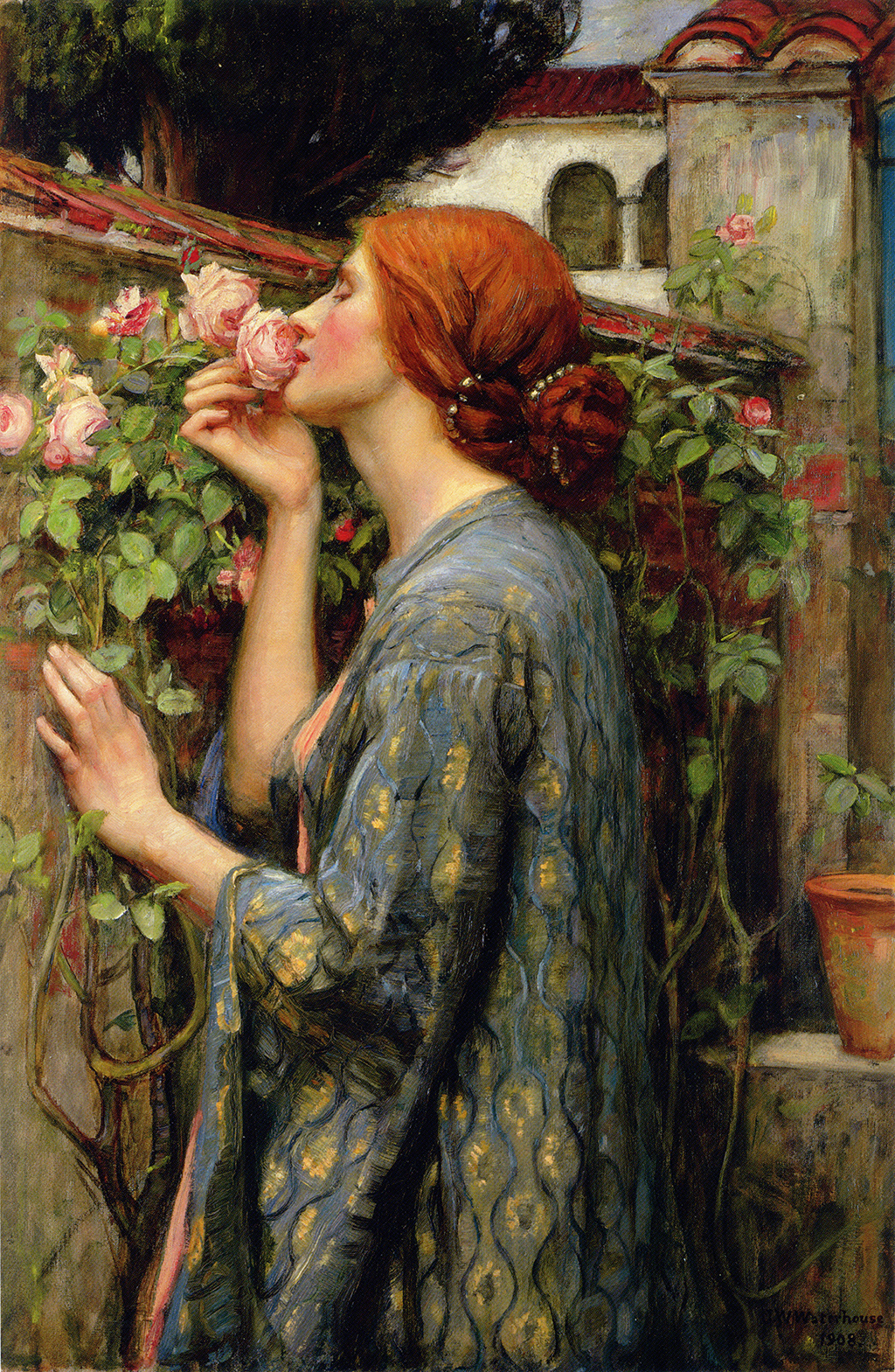 The Soul of the Rose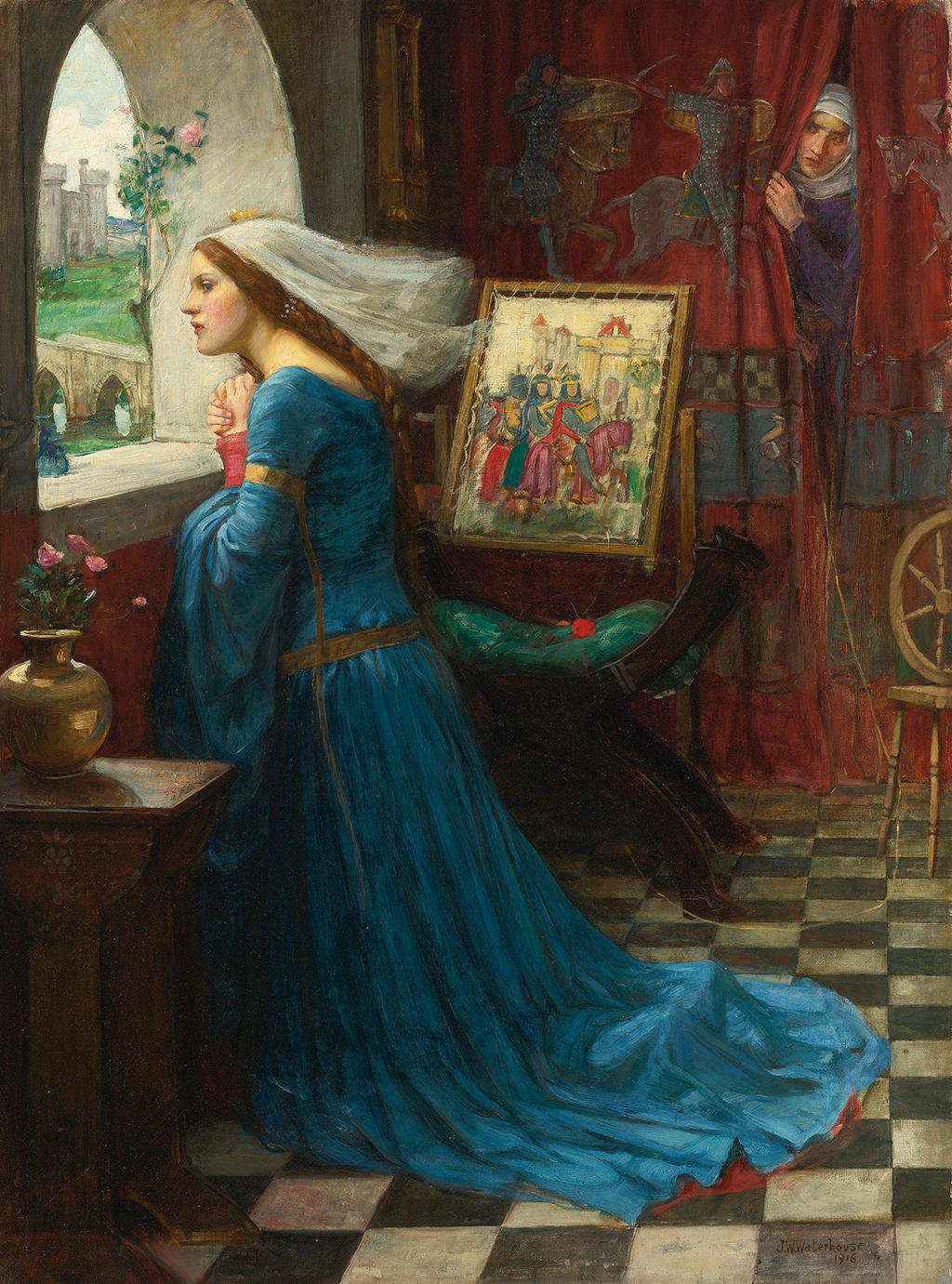 Fair Rosamund
I Am Half-Sick of Shadows said the Lady of Shalott
List of Famous JW Waterhouse Artwork
Fans of the pre-raphaelite paintings of Waterhouse can enjoy around 30-40 great works from his career and they may also like those by other similar artists such as Dante Gabriel Rossetti, William Holman Hunt plus romanticist artists JMW Turner and John Constable. There are many great John William Waterhouse print to pick from, to suit all sorts of tastes. Please find a list of famous Waterhouse prints below, each of which are available to buy from the Waterhouse gallery that you can reach by clicking any of the links above. The Waterhouse gallery includes art prints, tapestries, stretched canvases and giclee prints of Waterhouse's original paintings.
Maidens Picking
Psyche Entering Cupids Garden
Ulysses and the Sirens
Thisbe
Miss Margaret Henderson
Sweet Summer
The Lady of Shalott
Hylas and the Nymphs
Tristan & Isolde
Ophelia 1894
Mermaid
Cleopatra
The Siren
Fair Rosamund
Echo and Narcissus
Miranda The Tempest
Windswept
Enchanted Garden
Saint Cecilia
Destiny
Knight
Apollo and Daphne
Consulting the Oracle
Flora and the Zephyrs
Mariana in the South
Nymphs Finding the Head of Orpheus
Narcissus
Ophelia
Gather Ye Rosebuds
Grecian Flower Market
Gathering Almond Blossoms
Ariadne
Boreas
La Belle Dam Sans Mercie
Pandora
Awakening of Adonis
At the Shrine
Vanity
Circe Invidiosa
Gather Ye Rosebuds