Introduction
Born in 1849 in Italy to English parents who were also painters, Waterhouse is known for working in the Pre-Raphaelite style, although he was not a contemporary of the artists who founded this movement and he adopted it at a time when it was no longer very fashionable in Britain.
Theme
The subject matter of the Beautiful Lady Without Pity was a popular theme with the Romantic Poets as well as the artists who made up the Pre-Raphaelite brotherhood. John Keats's classic poem of the same name elucidates the classic story of a knight who has become enchanted and left for dead after encountering a beautiful fairy woman in the forest.
Description
Likewise, Waterhouse's painting depicts an apparently romantic scene set in a woodland where a passing knight has come upon an exquisitely alluring young woman. Waterhouse captures the moment when the fairy enchantress ensnares the seemingly lovestruck knight in her long hair by wrapping it around his neck to hold him in close to her.
The intensity of the knight's gaze gives the impression that he has been bewitched by her beauty, while the beautiful lady looks up at the knight with an expression that is hypnotic. Despite the fairy woman's exquisite, almost ethereal beauty, the dark colours and tones of the painting reinforce the sense of threat and menace suggested by the manner in which she envelopes the knight in her hair.
Waterhouse's work retains a great popularity today and there are many reasons for that. The setting on an English forest, with trees and a small river is beautifully romantic and perfectly fits with the inspiration of poetry. The charming outfits add to this, with the lady wearing a pretty dress which is adorned with polka dots around the bottom, and detail on her sleeves.
Another popular aspect is that of suspense, which was a mood that Waterhouse added to a number of his paintings. Here we see the armoured soldier lured by this pretty young woman, as he considers whether to trust her or not. Those familiar with the original passage of literature will already know the answer to this.
La Belle Dame Sans Merci by Related Artists
So popular was the theme of La Belle Dame Sans Merci, that it is the subject of paintings by no fewer than five Pre-Raphaelite painters, including Frank Dicksee, Frank Cadogan Cowper, Arthur Hughes and Walter Crane. A contemporary of the Impressionists, his paintings also display elements of Impressionism as well as numerous references to historical events, classical Greek mythology, and Arthurian legends.
Waterhouse painted mainly in oil on canvas and his paintings are noted for having heroically or dangerously beautiful women as their subjects. With his attention to detail and naturalistic settings, Waterhouse's paintings convey a realism and vitality often in contrast to the mythological or literary subjects they depict.
Large Image of The Beautiful Lady Without Pity
Find a larger image of John William Waterhouse's The Beautiful Lady Without Pity below. This work, also known as La Belle Dame Sans Merci, is entirely typical of this artist - we find a meeting of two young figures in a romantic pose, with a natural scene across the background. The use of mythology and poetry inspired most of Waterhouse's paintings.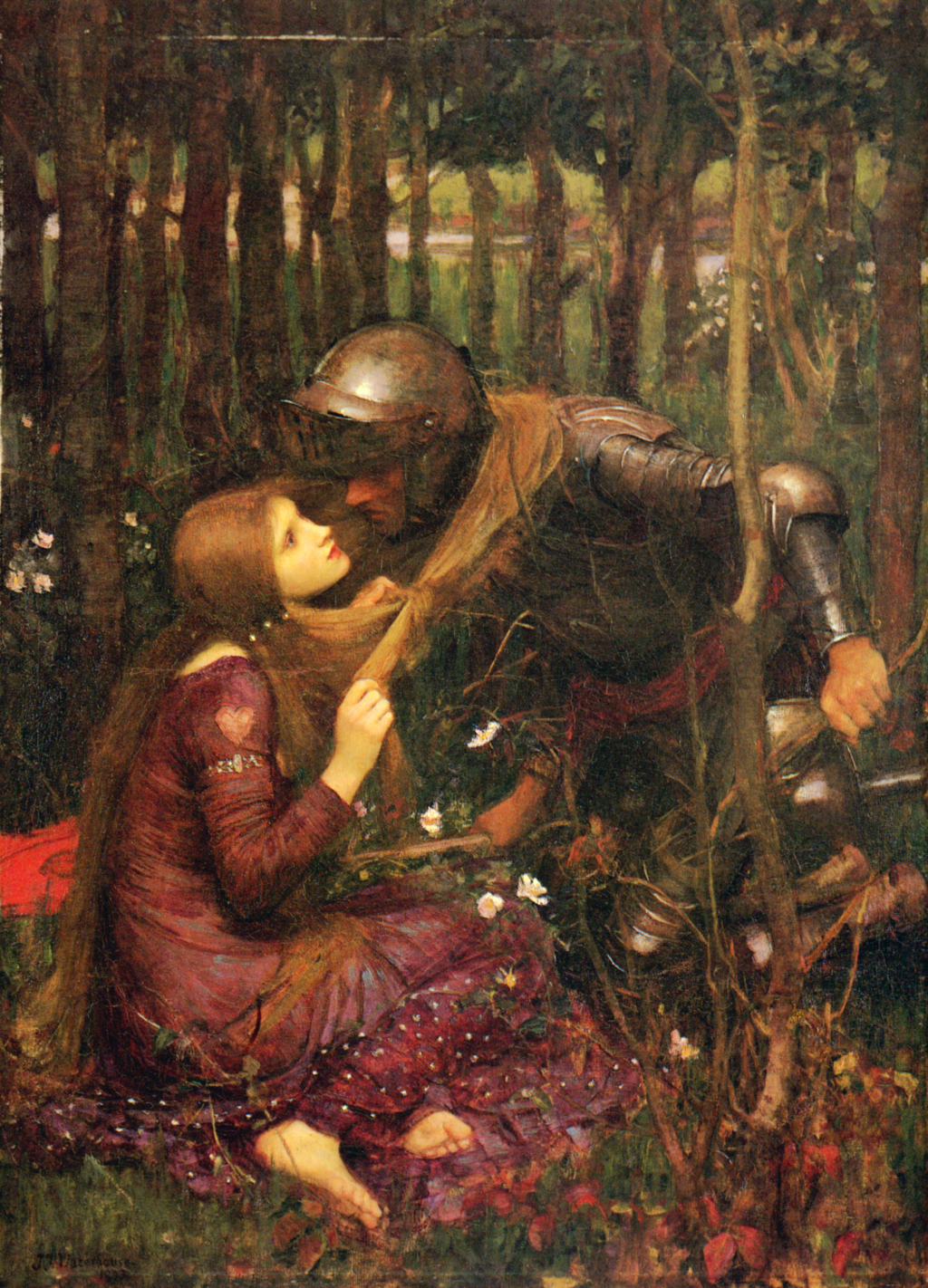 The Beautiful Lady Without Pity