Introduction
Lady of Shalott was created by Waterhouse in 1888 and his career came about towards the latter parts of the Pre-Raphaelite Brotherhood and most art critics believe that his style took in much of what had gone before, but with an added creativity and great selection of topic.
The painting is now held by the Tate in the UK and measures an impressive 153cm by 200cm. Lady of Shalott the painting is an artistic representation by Waterhouse of a scene from the poem of the same name, written by Lord Alfred Tennyson.
This poem teaches a story of a young woman named Elaine of Astolat who yearns unsuccessfully for Sir Lancelot and this painting sees her setting sail alone in a small boat. The painting itself features some supreme detail of various objects found within her boat and the overall scene is pretty and calming. Elaine of Astolat featured in several different paintings from Waterhouse, but this is comfortably the best known of them.
Inspiration from Poetry
It was part four of the poem which specifically inspires the painting, describing the woman's longing for Camelot and her slow journey down the river in search of him. In some says it is a sad painting, as she seeks the impossible dream, but as a painting it still captures mythical beauty that is perfectly suited to the Pre-Raphaelite art movement.
Elaine of Astolat holds candles within her small boat as she makes her way along the river and at this time candles were used to symbolise life but in the painting two of the three have gone out. There may have been some significance in this as Waterhouse set up setting a mood to the scene and place some context around the journey being taken by the Lady of Shalott.
Style
Much study has been made into this painting which was eventually donated into the British public's ownership by Sir Henry Tate in 1894. It is generally considered a predominantly pre-raphaelite painting thanks to the tones and subjects used within it, but the style used on the surrounding landscape is partly more from the earlier neo-classical movement. The artist of this classic painting also created other highly notable works like Hylas and the Nymphs and Ophelia, which both also followed fictional scenes with the artist's own imagination to bring them to life.
Waterhouse was clearly amongst the most talented artists to have come from the specifically British art movement and he had the added advantage of coming later on, allowing him to use the best that others had contributed and incorporate this with his own exceptional talent.
Influence
John William Waterhouse was influenced by Lawrence Alma-Tadema and Frederic Leighton in the early days of his career and these were similarly British-based painters at a time when the UK was building it's own art movement which proved creative and high in integrity, with a desire for art development and freedom of expression in a similar way to how impressionism had done in France. There are also opportunities to buy reproductions of Lady of Shalott as a framed art print or poster from the links included within this website. Lady of Shalott features amongst the most popular reproductions for western art fans.
Mythical Content
Mythical scenes continue to draw in fans to the work of Waterhouse. This period of art also sits neatly between the early days of the Renaissance and Baroque artists, and the highly abstract works of the 20th and 21st centuries. Film and Television also continue to promote this period through dramas which preserve the romantic and raw feeling of this time.
John Everett Millais also produced many mythical scenes during his career too, and it is likely you will find much to enjoy in his past work as well as Waterhouse. Both would go to extraordinary lengths to prepare the scenes for their work, often running into practical problems with keeping models still for long periods in and around water.
Pre-Raphaelite Brotherhood
The Pre-Raphaelite period has become fashionable again in recent times, fitting well with the increased exposure of vintage clothing and jewellery. As spearheads of the movements, Waterhouse and Millais have received much of this focus, with their careers aided by the key works listed here which continue to give their lives great prominence. Several high profile collectors have put in large bids for Pre-Raphaelite paintings over recent years, pushing up the prices at auction for original works from such artists. This fashion then draws in others and the situation can be compounded.
Besides the earlier pre-raphaelite artists, Waterhouse also took in methods from many other art movements such as impressionism, whilst his subjects were commonly taken from Greek and Arthurian mythology. This combination of the new with the old is one reason for why Waterhouse and paintings like The Lady of Shalott have become so much loved across the UK and internationally.
A final influence on the painter would certainly have been Italian art, having been born in Rome to English parents. Italy had dominated previous centuries with extraordinary artists like Michelangelo and Leonardo da Vinci and these perhaps inspired his English parents who were painters themselves.
JW Waterhouse was a key member of the British Pre-Raphaelite art movement. Alfred Tennyson originally penned the poem of the same name, and was at the time, revered by several members of the Pre-Raphaelite movement. You will notice that several other poems by Tennyson were also used as a basis for further paintings, such as Ulysses and Godiva. Waterhouse was not the only artist with an interest in the poet.
Waterhouse went onto make three paintings based around passages of this poem and that capturing the lady in a small boat remains the most famous. William Holman Hunt and Dante Gabriel Rossetti also took parts of his writings into their work. Lincolnshire-born Tennyson started to make a name for himself once he arrived at Cambridge University, and his time studying here was when he began to mix in prestigious company that would later help his work to get the exposure it needed to flourish.
Large Image of John William Waterhouse's Lady of Shalott
See below for a larger image of the painting, allowing you to enjoy more of the detail added by the artist. This stunning artwork remains the most famous artwork produced by Waterhouse, and amongst the best known pieces of British art in history. It also perfectly captures the essence of the artist, with female portraiture and inspiration from poetry.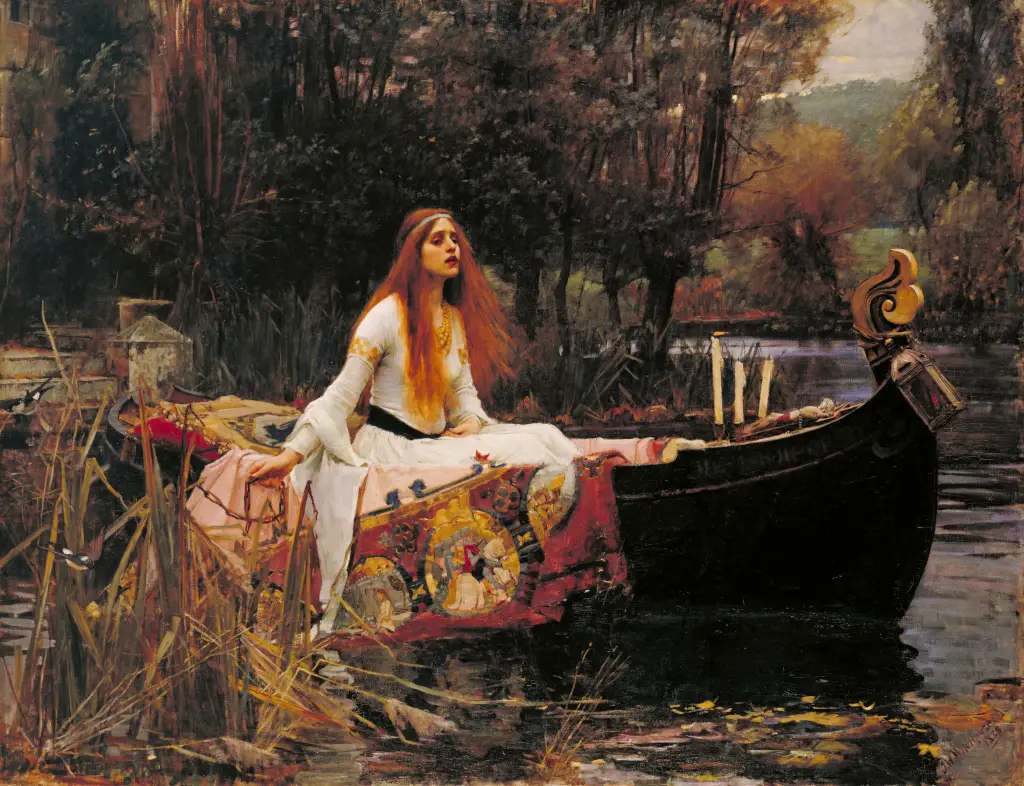 List of Famous JW Waterhouse Artwork
Those who want to look beyond The Lady of Shalott should check out the list below of our notable works from the career of British Pre-Raphaelite painter, JW Waterhouse.
Hylas and the Nymphs
Ophelia