Ophelia in Art
We are all aware of Millais' Ophelia painting whilst John William Waterhouse himself completed many of his own versions, with three of them included in this website. Alongside the artwork found here, you will also see other ones from 1889 and 1894, each of which follows the standard method of this highly regarded Victorian painter.
The Story Itself
The character herself, Ophelia, is taken directly from William Shakespeare's Hamlet. She was the wife of Prince Hamlet in this famous British story that remains amongst the best known in this literary legend's career. Waterhouse's different versions would experiment with the young woman's poses and expressions, though always being flattering and respectful to his subject.
British and ancient literature were the main drivers behind most of this artist's career and his charming scenes of beauty and innocence are as popular today as ever. He built up a selection of favoured models and combined them with themes of literature to produce charming paintings, quickly building up a strong following for his work.
Description
The painting itself captures Ophelia leaning on a tree and she looks out towards us. She appears anxious, as if waiting for something, or someone. A small pond or river makes its way down the left hand side of the painting, with the large tree angled over the water.
In the distance we see two other women looking on, glancing to the side. Ophelia herself walks towards us, with hair decorated with flowers and hanging down her back, towards her waist. Her stunning blue dress looks to be made of thick material, and features a golden trim with patterns across the bottom. The same design is continued across her chest.
Ophelia holds a selection of flowers in her hand, as if ready to present them to a friend. Her facial features are light and traditionally feminine, matching the fashions of the Victorian era. The composition initially looks fairly simple, but the artist has actually added considerable detail across the canvas, which becomes apparent after a continued gaze at the piece.
Background on Artist Waterhouse
The outdoor scenes of Waterhouse felt very British due to the lush green backgrounds that he appended to many of his paintings. That said, some earlier pieces held a more exotic feeling, taking architectural features from other classical cultures. He was not perhaps the most imaginative of artists in terms of his style, but managed to develop an approach which was consistent and also seemed to draw favour with the public.
Waterhouse himself was also Italian-born which influenced some of his paintings, such as the background architecture in the Soul of the Rose. He also studied prominent French art of his period, as well as the key British artist's of generations previous, including members of the Pre-Raphaelite Brotherhood as well as more classical painters like Frederic Leighton and Lawrence Alma-Tadema.
Large Image of Waterhouse's Ophelia
The image below brings Ophelia to life, with greater detail on offer. The detail around the model's dress is particularly memorable in this piece, partly because the rest of the scene does not carry the amount of work found in other paintings by this artist. The way in which the artist decorates the scene with flower heads is also charming, and very much in line with his normal method of work.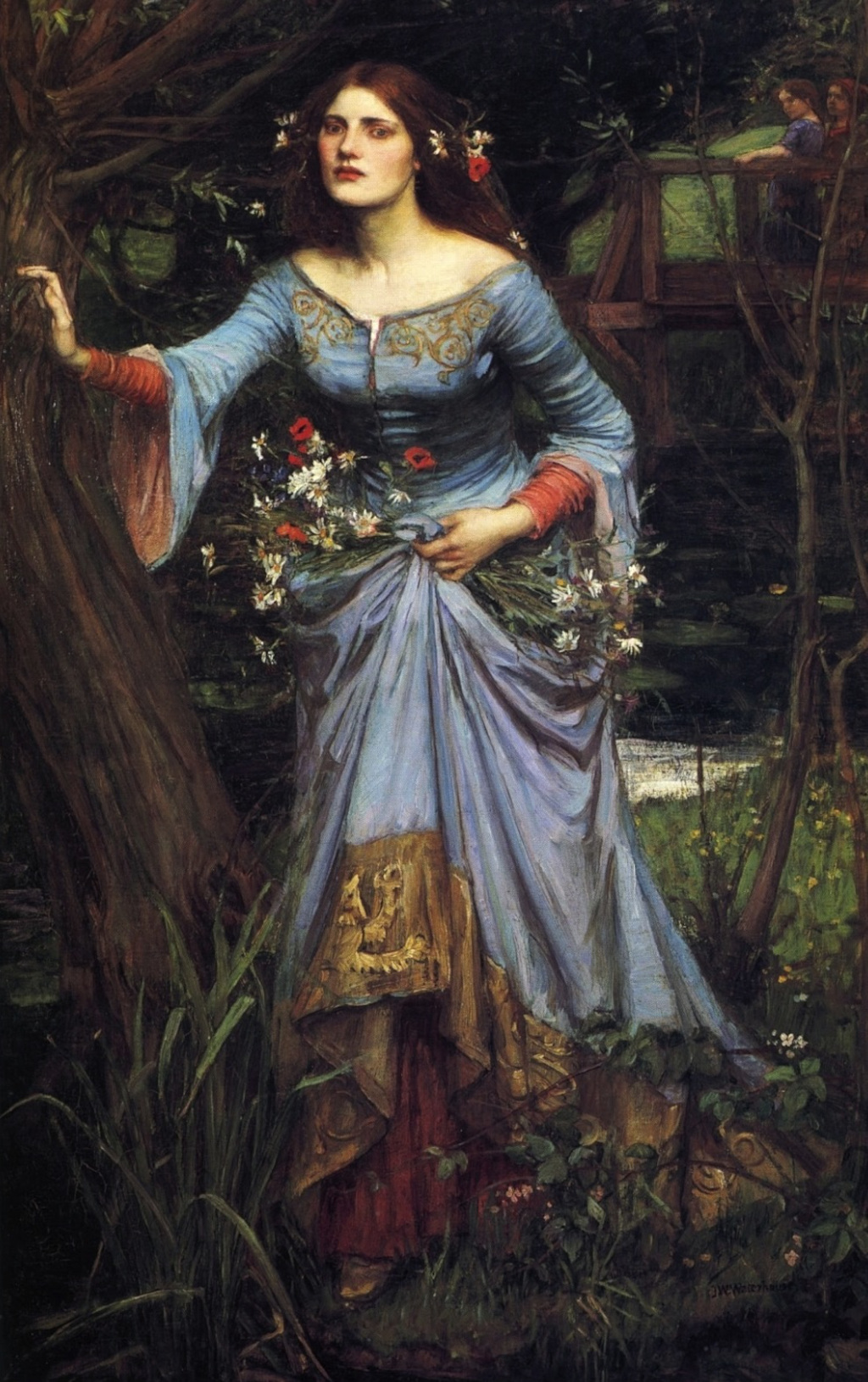 Ophelia