Introduction
The melancholic scene portrays the Siren as innocent rather than the evil seducer depicted in Greek mythology. Other than a hint of scales on her legs, the figure appears more human than monster. Painted in around 1900, the original oil on canvas measures 81 by 53 centimetres (32 by 21 inches).
Like several works by Waterhouse, 'The Siren' tries to marry mythology with art. In Greek mythology, Sirens lured sailors with their song and voices. These dangerous creatures appear in many Greek stories including Homer's Odyssey. They also appeared in Roman poetry. Sirens are the subject of other works by Waterhouse, including 'Ulysses and the Sirens' which was also amongst his most memorable compositions.
Description
Completed in 1891, Ulysses and the Sirens features sirens in the form of menacing birds of prey in a more dramatic scene aligned with traditional views of Sirens in Greek mythology. They encircle a ship commanded by Ulysses, who is tied to a mast as his crew tries to control the ship. Waterhouse also created images of other mythical creatures, including mermaids and nymphs.
Within this verson, however, we have something of a romantic setting, with a young woman holding her hand out to a young man who has been washed up to shore. He is pictured up, looking desperate for help. She is undressed, holding a musical instrument under her left arm which relates to a mythological story.
The waves continue to sweep around in the background, with natural arches of stone leading out of the water. Waterhouse captures the moment at which the young man wonders whether this lucky moment is real or just a dream, or perhaps even a danger cunningly disguised behind the image of this stunning young woman.
A good number of Waterhouse's paintings, including The Siren, would essentially focus on a romantic couple, with all other detail just providing additional aesthetic interest. Many of the elements of each story that would inspire his work would be included across the canvas, but our main focus would be on the two figures whp dominate the scene.
Background on the Artist
John William Waterhouse was born in Rome in 1849 to English parents. His family returned to England when Waterhouse was a child, settling in London in 1854. As a child, he drew sketches of art work in the British Museum and the National Gallery.
In 1871, Waterhouse began studying at the Royal Academy of Art. At first he studied sculpture before focusing on painting. His early paintings focused on large canvas pieces with scenes depicting daily life. Mythology of ancient Greece was also an early theme in Waterhouse's art.
Later in his career, Waterhouse increasingly embraced the Pre-Raphaelite style despite its decline decades earlier. He was also influenced by the Impressionist movement that began to dominate contemporaries of his time. The Pre-Raphaelite Brotherhood, or simply the Pre-Raphaelites, was formed by English painters in 1848 as a movement against the Mannerist style made popular after Raphael and Michelangelo during the Renaissance.
The Essence of the Pre-Raphaelites
The Pre-Raphaelites believes something of medieval art was lost in contemporary works. Founders of the movement includes William Holman Hunt, John Everett Millais and Dante Gabriel Rossetti. Other early members included James Collinson, William Michael Rossetti, Frederic George Stephens and Thomas Woolner.
John William Waterhouse's Inspirations
Waterhouse embraced the idea of using detailed and complex compositions with intense colours, key elements supported by the Pre-Raphaelites. His art was influenced by Romanticism and spiritual themes, particularly in mythology and literature. Like 'The Siren', Waterhouse's works often featured characters from mythology, poetry and literature.
Favourite subjects include Ophelia from William Shakespeare's Hamlet, who was represented in several paintings by Waterhouse. Like other Pre-Raphaelite artists, Waterhouse often used female subjects in his vivid portraits. 'The Lady of Shalott' (1888) illustrates Elaine of Astolat from medieval legends of King Arthur and recreates a scene from Tennyson's 1832 poem of the same name. Other Shakespearean figures including Cleopatra and Juliet also demonstrated the artists attempts to bring literature and art worlds together.
Large Image of The Siren
We have added a larger image of this beautiful painting below. The detail here is stunning, and entirely in-keeping with the approach taken by Waterhouse throughout his career. He practiced his skills of portraiture for decades, and truly mastered this challenging genre. He had also received rigorous academic training as a young art student, which stood him in good stead.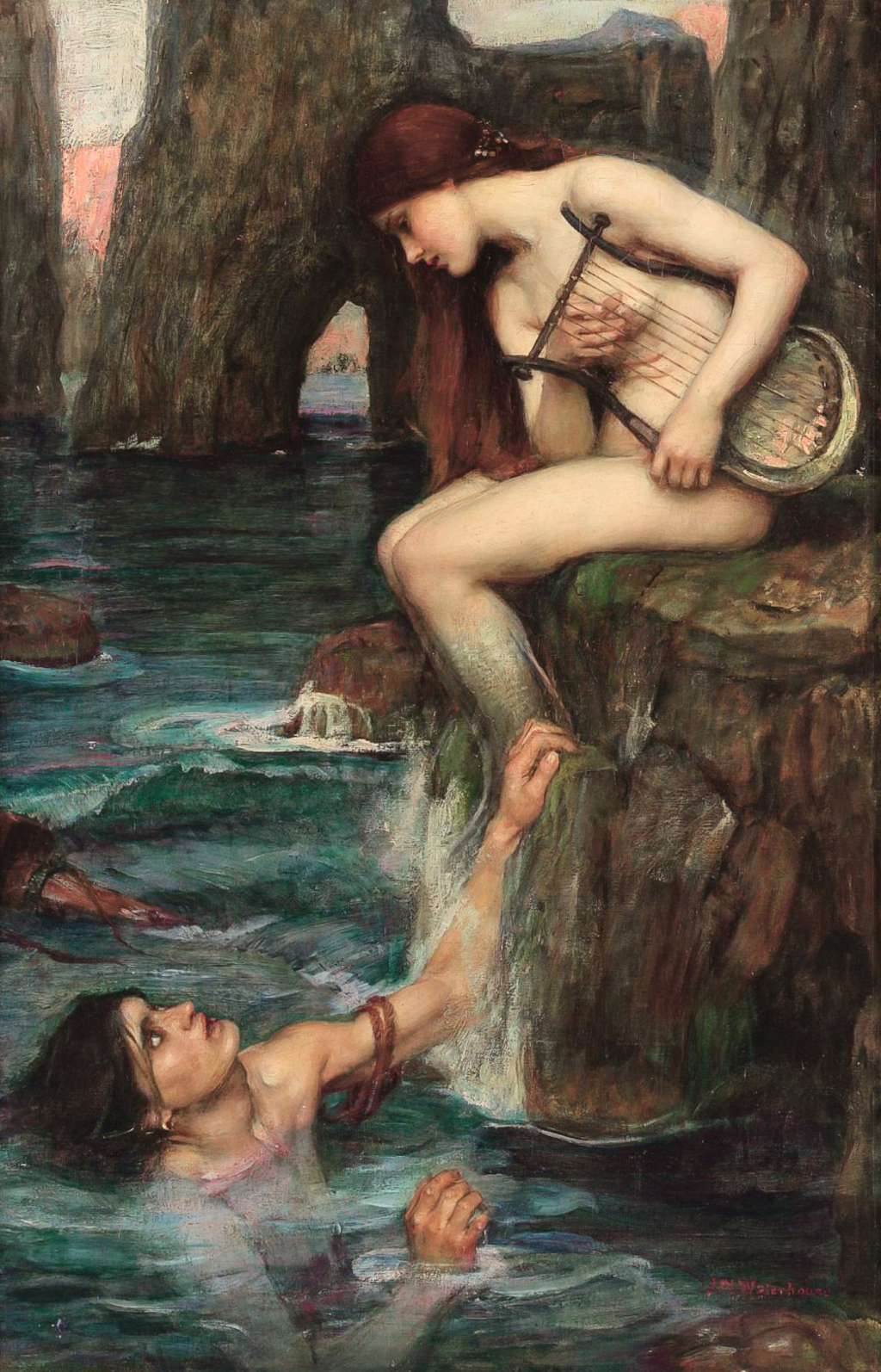 The Siren